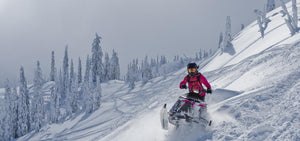 Gabrielle Hockley
​Born in Cranbrook - British Columbia, in 1989, Gabrielle Hockley has been involved in the snowmobile and watersport environment for around 20 years and counting. Snowmobiling, the mountain life, wakeboarding and wakesurfing have been a huge part of Gabrielles life. In the beginning when she was a little kid, it was going out on snowmobile trips with her family and spending time behind the boat at Kootenay Lake. But in recent years, Gabrielle bought herself her own sled a 2013 Pro RMK, and she wakeboards and surfs behind a 2013 244 Centurion Enzo. Gabrielle has been progressing and pushing the limit in all three sports ever since.
Gabrielle has competed in the Alberta Motocross Tour and placed first and second in her races. She has competed in AB, BC, and the USA for wakeboarding where she has won the female division multiple times and placed second in the men's intermediate division. This season she competed in the World Wakesurfing Championships and placed second in her division. She also competed in the World Series competition in Seattle and placed second and in the Koocanusa competition and placed first!!
But Gabrielle didn't want to stop there, she is an active member in her local snowmobile club, she is attends kootenay ladies rides, and she continues to step up her game and progress as a rider to become a good representative for female motorsports riders!
In the 2016 season Gabrielle is going to be focusing on back county sledding and competing in wakesurfing.
---